Does Private Internet Access work with Netflix?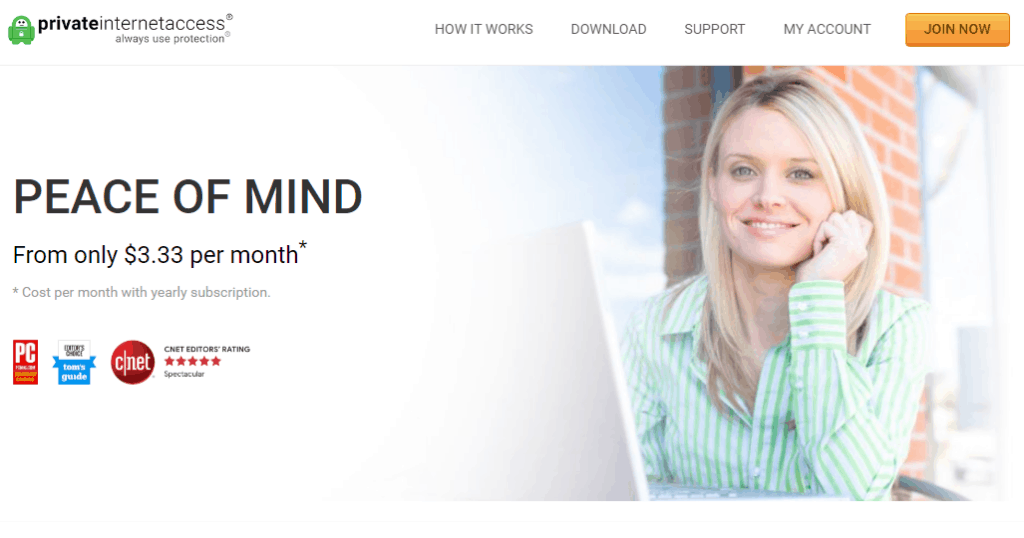 Netflix is one of the many streaming platforms that geo-restricts its content. This means that some shows can be watched by users in select countries. The platform has done this excellently by investing a great deal of expertise and money in its VPN-detection system. As such, many VPNs find it difficult to maneuver through the geo-blocking walls Netflix has set in place.
In this article, we'll answer your question of whether Private Internet Access works with Netflix, and give you a detailed view of VPNs.
Can Private Internet Access work with Netflix?
At the moment, Private Internet Access (PIA) has well over 3335 servers in 30 countries, but a large number of them cannot be used to watch movies on Netflix. A while back, the VPN provider used to work perfectly with Netflix, but this is not the case nowadays. Many users are greeted with an error message anytime when they want to use the VPN to bypass restrictions set by the streaming site.
Why is PIA banned by Netflix?
With their sophisticated detection system, you'll expect Netflix to spot even the slightest sign that a VPN is being used to access its geo-restricted content. Why such VPNs are banned is not rocket science. Users connect to the same server, and so access Netflix content with the same IP address. Now, it is possible to open several tabs on Netflix without raising any suspicion. However, it becomes obvious that a VPN is being used when hundreds of users are watching movies on Netflix with the same IP address.
If your account is blocked for a while and you complain to your VPN provider, they'll likely give you another one or a different IP address. This will take the problem away for a while, but within time, you'll be right back to it.
Types of VPN blocks
Having revealed that Netflix is a mastermind when it comes to geo-blocking, you may be wondering what exactly is being blocked. Here are the types of VPN blocks available:
Blocking by IP address: One way in which streaming sites block VPNs is by checking their IP address any time they connect to Netflix. If the system notices that your IP address matches a blacklisted one, you'll be blocked from watching that video, even if you are using a VPN. This is why VPNs are continually changing their IP addresses.
Blocking by Ports: This is similar to IP address blocking, and just like in the previous type, common ports are detected and blocked by the site's system.
Blocking by Deep Packet Inspection: This is a dedicated technique that analyses data to determine if the traffic comes from a server or not.
How to bypass Netflix blocks
A couple of ways to bypass Netflix's geo-restrictions;
Order for an IP address: As we mentioned earlier, the problem is not with the IP address or server, but that Netflix can detect when they are shared. So, when you get a VPN, ensure that it is dedicated to your use alone if that is possible. If it is, then it'll cost you a few more cents, but it's definitely worth it.
Change ports: To prevent being blocked by Netflix, we recommend you change your port to a less known one. Check the official PIA site for the latest news on ports.
Exciting Features of Private Internet Access
PIA is a decent VPN that you can use. It blocks ads, trackers, and malware easily, making sure that your device remains safe and secure. On the platform, you have unlimited bandwidth to watch movies all day long. And with ten simultaneous devices linked to one account, you'll have all the freedom you need.
PIA is very easy to set up and runs on three of the most popular protocols. The VPN service operates on a no-log policy with encrypted WiFi to keep you protected. PIA offers discounts if you buy the service for a long period. With the yearly plan, you'll get three months free, save 73%, and pay only $2.66 in a month. The two-year plan is just as impressive with six months free, 77% discount, billed at a rate of $2.33 per month. However, if you would rather go for a monthly plan, then you'll have to pay $6.95. This is still quite cheap as opposed to the previous fee of $9.95.
Can I use a free VPN to access Netflix instead?
With so much talk about paid VPNs, it would have crossed your mind to use their free counterparts instead. Indeed, they are the tempting option that on the surface seem to be the wiser choice. However, a closer look shows that they have too many downsides when compared to a paid VPN.
Here are some of these disadvantages:
Many free VPNs do not operate a no-logs policy: They might tell you they do, but in reality, this is a façade. Any company offering a service is getting compensation in one way or the other. In this case, it is in the form of data or personal information. There is no guarantee that your personal information is not being sold to third parties or even used for malicious purposes. And in times where hackers are in every corner you turn to, overlooking such is too risky a decision to make.
Many free VPNs don't have enough servers: It is not expected for the capacity of a free VPN to match that of a paid one, and this is evident with the number of servers. While it is a norm for paid VPNs to have thousands of servers, it'll be a miracle if you find a free VPN that has up to 500. With the small number of servers, this means you'll experience slow speeds quite often. You may think that you can deal with that, but you definitely won't be able to deal with low-resolution videos and frequent buffering which occur as a result of this.
Many Free VPNs bombard users with ads: It is frustrating when everything you do brings up an advert. What's more annoying is when it is clear that these adverts are gotten from your search history. So much for no-log policy!
Most free VPNs do not protect your device from malware and viruses: All sorts of viruses and malware have been infecting the internet world in recent years, and free VPNs do not have the ability to cope with them. This is a real threat because you wouldn't know if you are using a free VPN or a malware-infested app.
Many free VPNs have limited bandwidths: Let's assume that you find a VPN so good that you don't experience any of the four problems listed above. It'll feel like you have hit the jackpot, but have you checked whether it has unlimited bandwidth or not? Usually, free VPNs do not have this feature, which makes it difficult to enjoy a good movie without interruptions.
These are some of the reasons why we recommend using a VPN that has requires a fee, has a good reputation, and is reliable.
What to look out for in a VPN
The best types of VPNs have exciting features that make browsing, streaming, or surfing the internet a breeze. Some of these that we think you should always look out for include;
Privacy, security, and Anonymity: A VPN should protect your information and data as long as you use it. This is one of the main features it should have. The best types out there should use state-of-the-art techniques to ensure that your traffic or personal information does not fall into the right one. Some of these security and privacy features include military-grade encryption (AES-256), DNS protection, an automatic kill switch, Double VPN, and lots more.
Speed and Bandwidth: Two things that instantly attract customers to a VPN are its speed and bandwidth. Most paid VPNs have unlimited bandwidths, allowing you to browse for as long as you like. On its speed, the best VPNs have many servers so that congestion in one does not affect your internet connection speed while you browse or watch movies.
Location of Servers: Having a large number of servers is solving one half of the problem. The other half is ensuring that these servers are in the right location. A VPN with servers in only a few locations is of little use to you, when you can get one with many servers all over the world.
Cost: The cost of VPNs is always going to be a defining factor when selecting one. Contrary to popular belief, many paid VPNs are relatively affordable. When subscribing for a long term, they can cost as low as $3 per month.
So, when you need to get a VPN, weigh these factors and rank them to determine which is the most important to you. Let that decision be your guide when you want to get any one of them.
Will changing my location on Netflix help me watch movies abroad?
It seems like a clever thing to do to change your location every time you need to access geo-restricted content. However, the streaming site will outsmart and stop you right in your tracks. Anytime you need to change your location, verification will be required. If you cannot provide one, then you wouldn't be able to access the content of that library.
On rare occasions where you cannot provide access after several trials, you may be required to contact the customer support whenever you want to have your location changed again. By this time, you should already sense that the streaming site has you on their radar. Any other mistake can cause the system to block you completely.
How to use a VPN to unblock Netflix
We've had a look at the types of blocking, so now, let's see how to use a VPN to unblock Netflix.
First, purchase a subscription on a VPN that satisfies the criteria we have included above. Two of the top VPN providers available today are ExpressVPN and NordVPN.
Download and install the app from your device's store (Google Play Store, App Store, etc.). You can install the app manually to change a few configurations on the app.
If you'd rather use the VPN from your browser, then install the browser extension. We recommend you use Chrome to do this.
Launch the VPN and then sign in.
Select a server in the location you desire.
Open Netflix on your browser or the app, and start watching all the movies you want to.
Do you need a new Netflix account when using a VPN?
You do not need a new Netflix account when you start using a VPN to access its geo-restricted content. Your old one will do just fine. Just keep it in mind that all the VPN's features should be turned on for the VPN to work properly.
Will a VPN slow down my internet connection speed?
You should expect a slight reduction in your connection speed whenever you are using a VPN. This dip in speed is largely influenced by the type of protocol you are using, as well as the server load and its distance from you. With Netflix, you can download at a speed of about 3Mb per second, but this will reduce with the use of a VPN.
On the bright side, if you don't use a VPN, you cannot be guaranteed privacy, anonymity, or protection from viruses and malware.
In conclusion
Netflix has gained a reputation as being one of the best streaming sites to get the latest movies and catch up with trending series. It has done a good job of protecting its content through geo-restrictions that the site has made it difficult for many VPNs to fool it. While many Private Internet Access servers cannot be used to access its libraries at the moment, we do hope that that will change in the future.
We've given you invaluable tips on VPNs, and we hope you use them for a better experience on Netflix.