Do VPNs Work?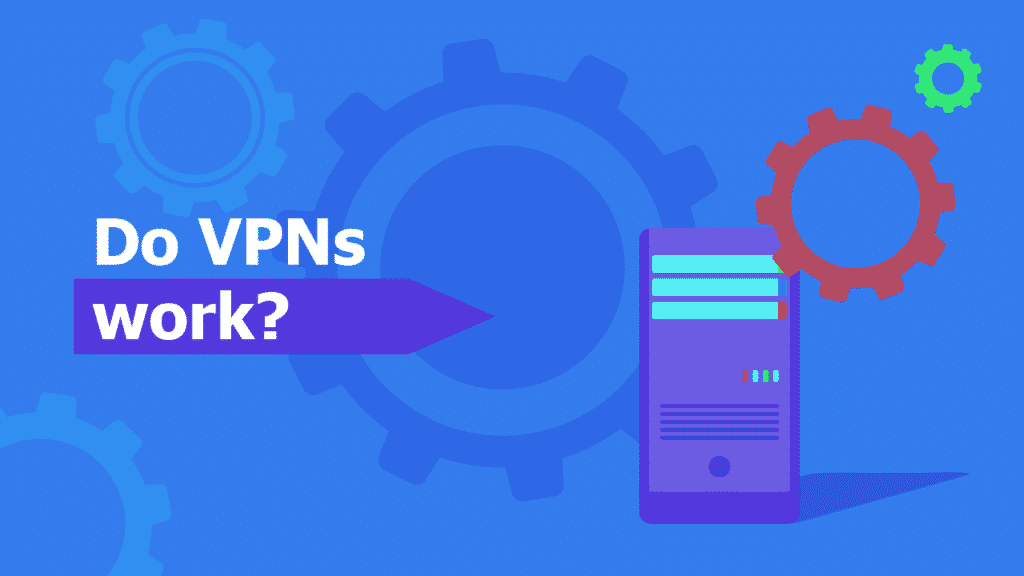 The wants, needs, and desires of human beings all over the globe are insatiable. This time-tested and proven theory is not only limited to the physical world. It extends very well into the virtual world as well. It is for this reason that there are businesses and solutions that are being set up every day.
However, for every solution that comes up, there is another problem or need that demands that it is solved. As such, people develop apps, create various pieces of software, and render useful services. All of these are done extensively in a bid to help satisfy human wants and needs. One such services is the Virtual Private Network. There are many different VPNs in the Internet Privacy/Security industry. If you choose the right one, it works like an absolute charm.
Now, a Virtual Private Network, or VPN for short, is a service rendered to solve several internet-related problems. It provides more security when you are browsing the web. It allows for actual privacy when you need your information to remain yours solely. It also enables you to get into parts of the internet that you usually would not be able to.
But do they really work?
If you are here with this question, you most likely belong in one out of at least two classes of people. The first is those who have tried out some (or numerous) Virtual Private Networks. This set of people have been met only with wave after wave of disappointment. The second is those who have not tried out VPNs but are genuinely curious before they invest whatever resources they have into subscribing for a Virtual Private Network service.
Regardless of which class you belong to, the simple answer to that question is yes. Virtual Private Networks can and do work. As a matter of fact, depending on which one you eventually decide to use, they work rather excellently. We say this in all respects, ranging from speed to level of security/privacy provided. In terms of the ability to give unrestricted access to otherwise inaccessible parts of the internet, they are capable as well.
However, just like virtually every other product or service in existence today, there are good ones, and there are the not-so-good ones. While we wouldn't describe free VPNs as bad, they are not quite as effective as paid VPNs. So, to answer the question more appropriately, VPNs do work. However, the best functioning types of Virtual Private Networks are the ones that you have to pay for.
This is so because when a Virtual Private Network service provider charges you money to provide their services, they don't just make a profit. They also make enough money to use in running the business and ensuring that their services are top-notch. While free VPNs are quite literally the most cost-effective kind, they do not work that well simply because they are not making enough money. And for the ones that do, you should be all the more skeptical about them because it is quite possible that their revenue comes from the sale of your data.
So, if you belong to the first class of people who used VPNs but were disappointed, there are high chances that you chose to go with free VPNs. As explained earlier, the best kind of VPNs are the ones that you pay for. A lot more often than not, they offer the best of services.
What does a good and well-functioning VPN guarantee you?
In the Internet Privacy/Security industry, there is a daunting number of Virtual Private Networks. Virtually all of them function as well as they should for their respective levels. However, as stated in the previous subheading, there are some that are far better choices than others. These VPNs are only better than their less performing counterparts because they provide you with services that you cannot find in others. Some of the things that they are useful for are:
Top-notch Privacy
When it comes to VPNs, privacy is almost everything. This could easily be inferred from the name of the service itself, which has the word "private" right there in the middle.

The best kinds of VPNs have something that is known as a zero-logs policy. This means that they do not keep your data for whatever reason. Any piece of information that you send over the internet is a hundred percent safe. You do not run the risk of having your data sold to third parties. This is quite important to mention because this risk is a rather high possibility in free VPNs. As stated earlier, they do not make so much money owing to the lack of subscriptions. As such, in an attempt to get a few bills in their hands, they might be easily tempted by huge numbers. If an interested body presents a figure that is large enough to sway them, they might just as easily sell off your data. This risk is reduced with paid VPNs, which are the best because they make quite an amount of revenue from customer subscriptions.

To further ensure your privacy, some of the best VPNs have their headquarters in places with no data retention laws. This simply means that the government does not require them to keep whatever information that is yours. As such, they do not. A perfect example is ExpressVPN, which is in the British Virgin Islands. The government of the British Virgin Islands does not require that they keep your information. So, technically, in addition to them not wanting to store your data, they do not have to.

A great example of how dedicated the best servers are to your privacy would be the case of NordVPN. At some point in time, the Russian government sought to have unrestricted backdoor access to NordVPN's servers in Russia. If they chose to bend to the government's pressure, it would have led to the Russian government getting a bird's eye view of your data. Users' privacy would have been severely compromised. Without a second thought, NordVPN took out its servers from Russia because the users' privacy always comes first.
Excellent Security
Another thing that a good VPN guarantees you is security on the dangerous streets of the internet. Most paid VPNs use an Advanced Encryption System (AES) with 256-bit. This is the highest level of encryption possible in the world as we know it today. It is this level of encryption that the strongest bodies, like the US government and other powerful entities, use worldwide to protect classified information.

To take a step further in providing you with an astounding level of security, some of the best VPNs even have extra security features. These features help ensure that your information and activities on the internet are very safe. Some of them go as high as encrypting your communication twice before it is sent. Another great feature they possess for this reason is the kill-switch. Now, while you are using the internet, there is the chance that your VPN could go off or temporarily stop working. These reasons could stem from different factors. However, at that moment, when your VPN stops working, you become exposed.

A useful metaphor to describe it would be wearing winter jackets in the Arctic. While you have them on, you are protected. However, if you take them off for any reason, you become a slave instantly to the harsh weather conditions. A good VPN uses the kill-switch to block data from going in or out of your phone as soon your VPN goes off for whatever reason. That is, nobody would be able to get into your device to snoop around. You, as well, would not be able to unwittingly send out your information to malicious bodies while the VPN is getting restarted.

Other features that they have for the sake of your security protects you from malware, ads and phishing threats. This particular feature has different names across different servers. This is, perhaps, for branding. However, the name is inconsequential. The essential function of the feature helps increase your level of security on the internet. Think of them as your virtual bodyguards in a crazy, chaotic world.
Unrestricted Access to the Internet

In certain parts of the web, there is such a thing known as geo-restriction. Here is the way geo-restriction works. Pieces of content are stored on servers, and these servers could be located in any part of the world. The reasons for geo-restriction range from copyright issues to licensing rights and even price discrimination. The reasons, however, are not relevant in this case. When you are trying to access content on a server in any part of the world, it gets your IP address. Your IP (Internet Protocol) address is a set of numbers that functions as an ID number of sorts. It gives such pieces of information like your location to the server.

When the server obtains your location from your IP address, if you are not in the required part of the world, one of two things would happen. You could be blocked automatically, or you could be redirected to another website. Regardless of which happens, the essential thing is that you would be prevented from accessing the pieces of content for which you went to the site in the first place.

What a good Virtual Private Network does for you is that it encrypts your IP address and prevents the servers from being able to read your location accurately. It would enable you to seem as though you are trying to access the web from the authorized areas. When that happens, you would be able to access what was previously out of your reach. This is a level of internet freedom that is worth paying for if you ask us.
What are the best VPNs?
All this while, we have gone from one paragraph to another, outlining what the best VPNs can do and how they are better than paid VPNs. We cannot discuss their capabilities in full detail. However, we can give you the top three and a few reasons they are considered the best all around the world. Dive in!
ExpressVPN

Features
Number of servers: More than 3,000
Speeds: Unlimited
Server locations: 160 in 94 countries
Maximum devices supported: 5
24 live chat: Yes
30 day money back guarantee: Yes
Pros/Cons
Fastest VPN out there
Strict no logs policy
256-bit AES encryption
This Virtual Private Network has over three thousand servers in over ninety-four countries around the world. It is known for its excellent speeds, which can go as high as 140mbps. It uses the Advanced Encryption System mentioned earlier in ensuring your internet security. Even though it is a paid service, it still affords you the luxury of a thirty-day money-back guarantee. This means that after paying for whichever duration of usage you prefer, you can ask for a refund within the first thirty days of use. The refund would be given back to you with no questions asked. So, if you are worried about being unsatisfied and not getting the value for your money, well, don't be.
Pros:

Fastest VPN out there;

Strict no logs policy;

256-bit AES encryption;

Lowest price: $6.67
NordVPN

Features
Cryptocurrency accepted? Yes
Simultaneous connections: 6
Dedicated IP-addresses? Yes
Servers: 5342 in 58 countries
Pros/Cons
Lots of pricing options
Netflix support kept up to date
256-bit AES encryption
In any reliable list of the best Virtual Private Networks, NordVPN cannot be missing. When you consider its features, you would realize why it indeed deserves to be on all those lists. For starters, it has over 5200 servers across 59+ countries in the world. Also, to guarantee your security, it encrypts your data twice before it is sent. This feature is known as Double VPN. Also, it provides excellent speeds and great geo-unblocking capabilities.
Pros:

Lots of pricing options;

Netflix support kept up to date;

256-bit AES encryption;

Lowest price: $3.71
Surfshark

Features
Free trial? Yes
Simultaneous connections: unlimited
Ad blocking? Yes
Servers: 1000+ in 61 countries
Pros/Cons
No footprints
Allows torrenting
256-bit AES encryption
The last but not least on our list is SurfShark. This VPN has over one thousand servers within its collection. That is still a whole lot more than you can expect from a vast majority of free VPNs. It allows you to connect an infinite number of devices to your subscription. To make things even better, it has some extra security and privacy features. Some of these features include the CleanWeb feature, the Whitelister feature, and the camouflage mode.
Pros:

No footprints;

Allows torrenting;

256-bit AES encryption;

Lowest price: €2.49
In conclusion
Virtual Private Networks are excellent ways to guarantee your internet safety and provide a few perks along the way. If the right one is chosen, it can and will deliver its services as well as it should. What we have shown you in this article, among other things, is that VPNs really work.