Best VPN Trials for 30 Days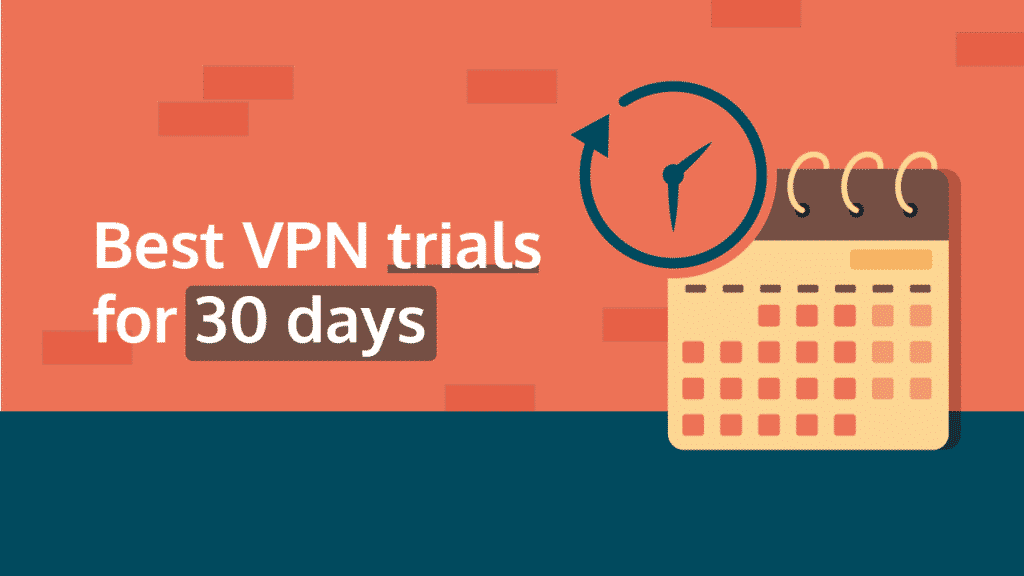 The internet, as we know it today, is a free place with vast amounts of information stored within. However, with that freedom comes a few disadvantages.
The very first is as regards your privacy on the internet. In order for you to be able to share or even use the internet at all, your device needs to be able to communicate with the server of the website you are trying to access. To do this, the server would read your IP (Internet Protocol) address. With that information, it can easily decipher your location, and if your location can be gotten, you can be found as well. This significantly reduces the level of privacy that you have.
The second is regarding your security online. Whenever you post things online or even use passwords for online transactions or other things of that sort, it is relatively easy for malicious personalities online to get those pieces of information and use to gain access to your life that you would rather keep to yourself.
The third and final problem with the internet that concerns this article is that even though it is a free place, there are still restrictions. These restrictions are put in place by the government, companies, organizations, brands, etc. They often prevent you from being able to access certain parts of the internet or specific pieces of content on the internet. The most common of them all is a geo-restriction that denies you entry to particular places online based on your location. That is, if you are not within a certain geo-location, you would be prevented from being able to browse certain sites.
The solution is VPN
All of these are quite problematic and prove time and again to be discomforting for internet users. However, the simple answer to all of these problems is a VPN. VPN, which is short for Virtual Private Network, is a service provided nowadays by specific technological companies to help bypass these restrictions. In addition to circumventing restrictions online, they also help improve your security and guarantee your privacy online. This is done simply by masking or changing your IP address, and tunneling your device so as to "hide" it from any unwanted prying eyes. Some of them are free, and some of them are not.
Thankfully, there are VPNs that help ensure that you get your money's worth at a fair price. Even at that, they still provide 30-day money-back guarantees. These are trial periods that allow you to take back your money within the first 30 days of subscription if you are uncomfortable with the services they have rendered thus far.
Below is a list of VPNs with the best 30-day money-back trials:
ExpressVPN

Features
Number of servers: More than 3,000
Speeds: Unlimited
Server locations: 160 in 94 countries
Maximum devices supported: 5
24 live chat: Yes
30 day money back guarantee: Yes
Pros/Cons
Fastest VPN out there
Strict no logs policy
256-bit AES encryption
This is one Virtual Private Network that is known to deliver consistently. Some people consider it a bit expensive in comparison with other VPNs of its kind. Thankfully, it provides you with a money-back guarantee.
Here is the way the 30-day trial period for this VPN works. When you make an order, or, in better terms, pay for a subscription, you have exactly 30 days to use the VPN having paid for it. If, for example, you make your payment by 9 a.m on the 1st of May, you would have exactly 30 days to test run this Virtual Private Network. That means that you can ask for a refund between your time of payment and 9 a.m on the 31st of May.
When you request a refund during the 30-day period, the method of payment which you adopted initially would be credited with a full refund as soon as possible! It is, however, important to note that with this VPN, you would be given exactly 30 days to request a refund. Not a month, just 30 days. However, with over three thousand servers across the globe and even as far as Africa alongside reasonable internet speeds, it is well worth it.
Pros:

Fastest VPN out there;

Strict no logs policy;

256-bit AES encryption;

Lowest price: $6.67
NordVPN

Features
Cryptocurrency accepted? Yes
Simultaneous connections: 6
Dedicated IP-addresses? Yes
Servers: 5342 in 58 countries
Pros/Cons
Lots of pricing options
Netflix support kept up to date
256-bit AES encryption
Number two on our list is NordVPN. With over 5200 servers in the system spread out across different areas in the world and virtually all continents, it is safe to say that this Virtual Private Network is well worth your money. Apart from that, it has excellent speeds that enable you to surf the web conveniently without getting frustrated waiting for buffers. However, as with any other VPN, you also have to weigh in the cost. It would be unwise to just jump in without actually taking into account what effects it would have on your finances.
That is why the Virtual Private Network offers you a 30-day money-back guarantee. During this trial period, you are free to do what you want after paying. However, if you are unsatisfied, you can simply request a refund, and you would get one back as soon as possible..
To get your refund on NordVPN, you simply have to log in and navigate to your account page. Afterward, you are required to click on the icon beside the "Change Plan" to confirm your cancellation. When you have done that, you would be directed to chat live with an agent. Tell him/her you would like to get a refund, and thereafter, you merely have to wait a little bit for your money to be credited back into your account. It is that simple!
Pros:

Lots of pricing options;

Netflix support kept up to date;

256-bit AES encryption;

Lowest price: $3.71
Surfshark

Features
Free trial? Yes
Simultaneous connections: unlimited
Ad blocking? Yes
Servers: 1000+ in 61 countries
Pros/Cons
No footprints
Allows torrenting
256-bit AES encryption
Our number three VPN, Surfshark, is very particular about one thing when it comes to getting refunds. To get your refund within the first 30 days, you must have adhered to the terms of the agreement. That is, if you breach the terms and conditions within the first 30 days, you would not be eligible for a refund any longer.
It, therefore, goes without saying that you should read the terms and conditions of this VPN before you begin using it so that you do not accidentally breach the agreement.
To get your refund, you have to contact the VPN's customer support department via email (support@surfshark.com.) It is fairly important to note that whether you sign up for the 24-month plan or the 12-month plan, you are still entitled to the same 30-day refund period. However, the 24-month subscription plan does offer a great deal of up to 80% discount, should you decide to stick with the VPN.
Pros:

No footprints;

Allows torrenting;

256-bit AES encryption;

Lowest price: €2.49
HideMyAss

Features
Speeds: 20 Gbps
Money-back guarantee: Yes
Activity logs? No
Locations: 190+ countries
Pros/Cons
Best server database on the market
No-logs and kill switch policy
Multiple device protection
Expensive short term plan
This is the last VPN on our list for this article. Regardless, with speeds of over 20gb per second, it is most definitely not the least. It offers you excellent services for every buck you pay and it offers you a chance to get a refund if you are unsatisfied within the first 30 days!
Unlike the other VPNs, however, it does have a few limitations. Apart from the fact that you have to cancel within the first 30 days, you must not have made any transfers higher than 10GB during that period. In addition to that, you must not have used it for more than a hundred sessions.
Keeping those restrictions in mind, you can request a refund in a few easy steps. Simply log into your account. After canceling your subscription, locate the "how to apply for a refund" page and then click on "I want to request a refund." Make your request using the contact form, reply the email that comes afterward, and you should get your refund in 24 hours.
Pros:

Best server database on the market;

No-logs and kill switch policy;

Multiple device protection;

Lowest price $2.99
UltraVPN

Features
One click connect? Yes
Servers: 100+ superfast servers
Bandwidth cap? No
Platforms: Mac, Windows, iOS, Android
Pros/Cons
Firewall
Apps for all devices
256-bit AES encryption
Not as many servers as others
Number four on our list is UltraVPN. It has an incredible capacity for security. It also has systems put in place to ensure that your privacy is 100% guaranteed. It has excellent unblocking features. Apart from these, it allows you to connect up to three different devices to the network when you have subscribed.
To top it all off, it is very affordable and does not threaten to put holes in your pocket. However, in spite of the affordability, it still offers you a risk-free money-back guarantee that lasts for 30 days.
To get a refund within the first 30 days of subscription to this VPN, all you have to do is contact them via email (billing@ultravpn.com). After a brief discourse, depending on how much you have to talk about, you would be given a refund as soon as possible.
Pros:

Firewall;

Apps for all devices;

256-bit AES encryption;

Lowest price: €2.99
Which is better between a paid VPN and a free VPN?
While this is a purely technical and technological article, a philosophical saying does come in handy in answering this particular question. The saying goes, "nothing good comes easy." That same saying can be applied here as well to answer your question.
Providing the services of a Virtual Private Network is not an easy task to accomplish. This is even more so because of the amount of information that people put online these days and the number of new methods that other people employ in misusing those pieces of information. As a result, companies often spend money going as high as several million to be able to ensure users' privacy online.
Now, there are several Virtual Private Networks that offer their services for free. In their defense, these services are actually okay. If you are not particularly concerned about the issues as listed in the introductory part of this article, you can always go for the free Virtual Private Networks. They would give you the basic requirements and the bare minimum of coverage that you need.
However, you might be a different person than the one mentioned above. You might be big on security and privacy. As a matter of fact, you might want a little bit more coverage and restriction bypassing in your use of the internet. If you happen to be that type of person, then it is vital that you invest in a paid Virtual Private Network because they happen to offer the services that you need.
What should you look out for when choosing a Virtual Private Network?
Choosing which VPN to use for your internet needs can be quite a decision to make in most cases. This is especially so if you are considering what implications it would have on you in different ways.
Before choosing a VPN, you must take into account its speeds. Does it have the capacity to protect you while also ensuring that you can browse the internet at decent speeds? This is particularly important because there is no point in protecting yourself online when you can hardly even use the internet because it is so slow. It would be the virtual equivalent of wearing very heavy armor to war and then being unable to move or defend yourself as a result. The purpose would have been defeated.
Secondly, you must take into consideration the number of servers it has, where it has them, and whether or not they would be of use to you. If your purpose for getting a VPN in the first place was to bypass restrictions on a particular website in Australia and you go and get a VPN that does not have servers in Australia, you would have ultimately defeated the purpose.
Thirdly, and perhaps most importantly, is the cost of a subscription to the Virtual Private Network. The general rule of thumb is not to purchase a subscription to a Virtual Private Network that would merely bleed you dry, but not offer premium services. This would be nothing short of heartbreaking.
In conclusion
If you decide to choose any product or service, especially a Virtual Private Network, it is important to consider the cost implications, among other things. We have simply helped provide more information about VPNs with the best refund policies. That way, you would be able to make well-informed choices.
Having said all that, it is still important that you take calculated risks while purchasing these services. A good example would be to ensure you read the terms and conditions of each VPN. That way, you can prevent yourself from breaching them and inherently disqualifying yourself from being able to request a refund. On that note, we wish you good luck!